When it comes to bathroom design, the lines between traditional and contemporary seem to be blurring. Gone are the days when a single style prevailed - be it brass fittings and vessel basins, or Shaker furniture with sleek chrome taps, the newest and most trend-led bathrooms often rely on a subtle play of modern and classic to add a unique and individual touch. With this in mind, we have selected three key elements of classic bathroom design to add a touch of tradition to your bathroom.
A Roll Top Bath
A focal point in any bathroom, the claw foot bath is instantly recognisable as a classic. Originally constructed from cast iron, modern incarnations are now available in lighter, equally durable materials that require bare minimum of upkeep without compromising on design. With its grand styling, claw feet and elegant sloped form, the Claremont slipper bath by Laura Ashley Bathroom Collection is a great example of this heritage piece. Set the Claremont against a bold geometric tile pattern for a impactful contrast between contemporary and classic.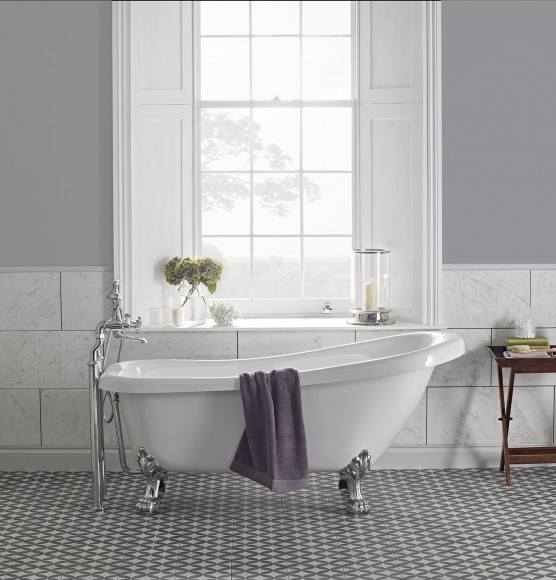 A Traditional Vanity
Don't let a modern space limit you to contemporary furniture- opt for a for a warm , rustic feel while maintaining a fresh look with styles that are minimal in structure but rich in texture and finish. The Marlborough furniture range merges elements of traditional carpentry with simple styling and clean, unfussy lines. Being simple yet rustic, tongue and groove panelling is an especially effective way of introducing a touch of the traditional into your home while maintaining a minimal, clean aesthetic.

A Low Level WC
Rather than opt for the more dramatic high level toilet, a low level WC is a nod towards a more traditional style without overwhelming a room. With refined contours and chrome piping, the Bloomsbury collection of sanitaryware contrasts beautifully with bolder, more contemporary paint colours and decor.