At the touch of a button, lighting can instantly alter the look and feel of your bathroom so it's an important element to consider, regardless of whether you're completely changing or updating your existing bathroom. As well as the main light, it's a good idea to have other light sources that you can use on their own or in conjunction with the central light. An illuminated mirror or wall lights that are positioned either side of your mirror or cabinet are perfect for this. As well as providing that all-important task lighting, they will also offer softer illumination for those times that you may not want the full glare of your main light.
Any light fittings for the bathroom should be chosen based on a suitable IP rating and you should always take advice from a qualified electrician when installing any lighting or electrical equipment in your bathroom. Cables will need to be channelled into the right spot and the right fixings sought for mirrors to be fixed to the wall, especially if you are drilling into tiles or it's a mirrored cabinet, which will hold lots of lotions and potions, being fixed to a plasterboard wall. But once the practicalities are considered, we've some great ideas for completing your new scheme.

If you are looking for something sleek and don't need the extra storage space offered by a mirrored cabinet, then why not consider one of our illuminated mirrors? Hung portrait above your basin or basin unit, a simple mirror will not only reflect the available light in your bathroom, it will make the room appear taller too. Our illuminated Langham and Marlborough Mirrors feature a handy infrared no-touch on/off switch and demister pad (another feature to look out for when choosing mirrors as it helps to keep the glass steam free in a humid bathroom environment). Our Illuminated Slim Mirror has the same features, but looks great in a contemporary setting. Style with our Monograph range of basin units for modern chic!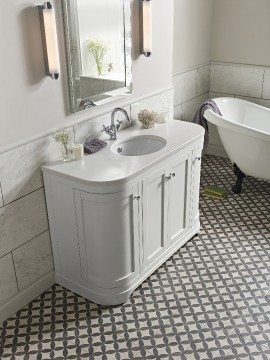 For a really luxurious feel, team our Traditional Mirror with a pair of our Bathroom Wall Lights, one mounted either side. These have a great Art Deco feel that works really well with the curved lines of our Malborough furniture collection, making your bathroom feel like a glamorous hotel (you'll never want to leave!).
Need extra storage? Then take a look at our Marlborough and Artisan Mirror Cabinets. They are available in Pale Oak, Cobblestone and Cotton White finishes and have two internal glass shelves, which are ideal for providing extra space for toiletries as well as a lovely big mirror (the cabinets measure W500 x H725 x D170mm). Check above your basin to make you have the projection space and a decent height above the tap to hang the cabinet first though, as you don't want to be hitting your head when brushing your teeth!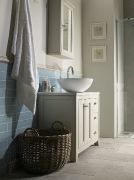 Visit our website, Facebook and Twitter pages for more bathroom inspiration and click here to find your nearest Laura Ashley Bathroom Collection retailer, who can help you create your dream bathroom.