Regardless of the style of your home or the look that you're trying to achieve, there is a freestanding bath that will complement every bathroom. From cool, contemporary tubs that sit directly on the floor to traditional-style, roll top baths with elegant, claw feet, the latest freestanding models cater for super-spacious as well as more compact bathrooms.
If you have space to play with, try and leave plenty of room around your freestanding bath and team it with floorstanding brassware to ensure it really is the focal point of your bathroom (it's also handy when it comes to cleaning it, too). However, if space dictates that you need to position it close to a wall, or you want to make the most of breath-taking views from a window, then wall-mounted taps are a fabulous choice.
Each of the freestanding baths within our collection is made from double-skinned acrylic with resin reinforcement. Incredibly strong, lustrous and smooth to the touch, this durable material has great thermal properties as it retains heat, making it ideal if you want a luxuriously long soak but don't want to constantly be topping up the hot water!
Chic and contemporary, our Opus bath has a clean design and gentle, organic curves for the ultimate style statement. It looks simply stunning when installed with our Lucca freestanding bath shower mixer and sanitaryware from our beautiful Bayswater collection.
Who said your freestanding bath has to be located in your bathroom? While most people prefer the privacy of installing their tub in their bathroom, it can add a luxurious touch to a bedroom, especially when placed near on open fireplace. Our double ended roll top Fairfield baths, which have been inspired by classic, French design, come in a 1500mm and 1700mm version to suit rooms of different sizes.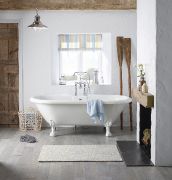 Like the Fairfield, our Claremont baths are available with feet in white, black or chrome. This stunning slipper-style tub also comes in 1500mm and 1700mm versions.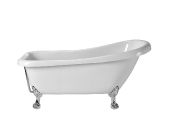 If you're planning on taking long soaks in your freestanding bath then why not go the whole hog and treat yourself to a mani or pedi while you're at it? The Soames Manicure Set from Laura Ashley has all you need to keep your nails in tip-top shape!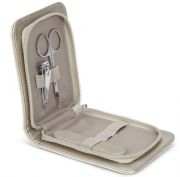 Although they are ideal for every room in the home, scented candles are particularly perfect in the bathroom. Not only do they create a relaxing ambiance, but they are also a quick and easy way to give your bathroom a luxurious, spa-like feel. We love this White Lily and Amber Musk Scented Candle which can be used on its own or with a selection of tealights to great effect.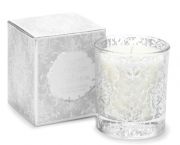 Visit our Facebook and Twitter pages for more bathroom inspiration and click here to find your nearest Laura Ashley Bathroom Collection retailer, who can help you create your dream bathroom.