Now that the days have started to get longer and lighter, and the weather (we hope!) is continuing to improve, our thoughts are starting to turn towards summertime. Days out at the seaside, complete with delicious ice creams, deck chairs and buckets and spades, are a quintessentially British tradition, loved by many of us, and incorporating a seaside theme into your bathroom is a great way of keeping those memories alive all year round!
Freestanding baths
Perfect for pulling the seaside look together, a beautiful, freestanding bath will take centre stage in your bathroom and will provide an ideal starting point from which to work your theme around. Choose wisely and opt for something classic and luxurious, such as our brand new Fairfield double ended roll top bath. Made from crisp white double-skinned acrylic with resin reinforcement, which is a tactile and high quality material that retains heat, its gently sloping sides will allow you to enjoy truly luxurious soaks. The delicate styling on the feet adds to the cool and calming atmosphere and injects an elegant touch to the bathroom.
Those that don't have the room for a full-size freestanding bath will find the smaller, 1500mm-long model ideal. Should you have the space for a bigger tub, Fairfield baths also come in a more spacious 1700mm-long version.
Bathroom taps
A traditional style, freestanding bath shower mixer used with standpipes will beautifully complement a classically styled freestanding bath such as Fairfield. Invest in a good quality product such as the Clifton bath shower mixer, that is made from high quality brass with a chrome finish to ensure it is a pleasure to use and stands the test of time.
Perfect pastels
Picking the right colours will help you create the perfect seaside look in your bathroom. Light and bright pastels and neutral colours are key and baby blues, greens and yellows, and soft cotton whites will really help create a nautical look. Stripes are fantastic for fabrics such as blinds and allow you to inject multiple pastel shades into the scheme. Sandy colours such as beige and pale yellow are another popular choice, and you can't fail with colours such as Seaspray Blue when it comes to picking your bath mat.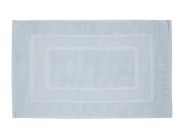 Light porcelain tiles that replicate the look of weathered planks of wood are great for helping to make your bathroom feel brighter and will add a vintage vibe that you can use to link to other rooms in your home.
No bathroom is complete without luxuriously soft towels to wrap yourself in when you step out of your bath, and pretty printed designs will add the perfect finishing touch.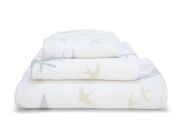 Check out our website, Facebook https://www.facebook.com/lauraashleybathrooms and Twitter https://twitter.com/LAbathroomsUK pages for more bathroom inspiration!