Bringing a touch of spa-style luxury into your bathroom is easier than you may think and creating a relaxing shower experience is the perfect place to start. Read on for our top tips on transforming your bathroom into your very own spa-like sanctuary.
There's nothing worse than stepping under the shower and being greeted by a trickle of water. To ensure that your shower performs as good as it looks, make sure that you pick a shower system that will work with your water supply.
You don't want to be worrying about accidental scalding should someone start using water elsewhere in the house when you're trying to relax in the shower, so make sure your shower is thermostatically controlled.
For the ultimate indulgence, a large showerhead will allow you to enjoy an invigorating showering experience. Our Clifton and York shower collections feature a choice of systems, which have been designed to look stylish in both classic and contemporary bathrooms.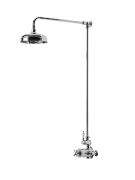 Made from brass and finished in chrome, the Clifton exposed dual function shower system wouldn't look out of place in a luxury spa hotel and comes with both an impressive 200mm showerhead and separate single function shower handset. It operates on a minimum pressure of 0.5bar, as does the concealed dual function shower system, which also features a 200mm shower head with adjustable length shower arm and a riser rail with single function shower handset. The Clifton range also includes an exposed, single function shower system and a concealed single function system, which operate on a minimum pressure of 0.3bar.
When it comes to creating a serene, spa-like ambience, try to stick to soft lighting. Our illuminated slim mirror is backlit to provide subtle illumination when needed. Plus it comes with a handy touch-free infrared on/off switch and a heated demister pad to ensure steamy bathrooms don't get in your way when you're getting ready.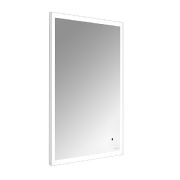 Enhance your spa-at-home experience with a selection of candles. We love Laura Ashley's handsome hurricane lamp, which will really help you set the scene when used with a pillar candle.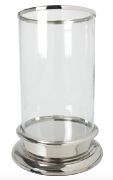 Finally, no trip to the spa would be complete without a soft, fluffy robe. This gorgeous Laura Ashley dove grey cotton towel bath robe is perfect for wrapping yourself in after a long, hot shower!
Visit our website, Facebook and Twitter pages for more bathroom inspiration and click here to find your nearest Laura Ashley Bathroom Collection retailer, who can help you create your dream bathroom.