We met with Naomi from @Inside_No.4 to speak about her beautiful renovation and the inspiration behind her bathroom style.
Tell us a little about yourself!
Hi! I'm Naomi and I live in Bristol in a Victorian terraced house with my husband, one-year old daughter and our dog Coco. We bought our current house in late 2016 and spent a year and a half renovating (most of) it. It now goes by the name @inside_no.4 on Instagram to document how far we have come and the (seemingly) never-ending projects. Anyone in a period property will understand and no doubt feel my pain!
Tell us a little about your interior style
I generally lean towards a classic style with some contemporary twists. Part of that is because my husband and I are big fans of period properties, so a classic style tends to lend itself well to the proportions of the rooms. I aim to make the rooms we spend the most time in calm, welcoming and airy, and then often go a bit bolder with more occasional rooms (such as our downstairs bathroom and study which are both very dark colours!). I also love organisation and being clutter free, so a lot of the rooms have cleverly built-in storage as part of the design.
Where do you look for interior inspiration?
I use a really wide range of sources for my inspiration. I love Instagram for the diversity of styles and being able to see everything from real life homes to designer styling. Pinterest is another app I use a lot. I find this great for creating and editing mood boards as I go along. I also look for inspiration everywhere I go. I am always taking in the interiors of restaurants, hotels and cafes. I really love admiring something that has been well thought through and put together considering every detail. House & Garden magazine is a monthly feature on my coffee table and a leaf through that with a cup of tea is always a nice round up of a huge variety of styles.
Your home was recently renovated, could you take us through the process?
Gosh…where to start! We bought our home in late 2016 thinking we would split the top floor attic room back into two, change a bathroom suite and give the house a lick of paint. Once we moved in and all furniture was out it became quickly apparent the house had been neglected for many years with many a bodge job leaving us with a house that was in need of a lot more than "a lick of paint". We stuck with our plan to overhaul the top floor as a starting point and once our builder had the planning in place we kicked off with the bulk of the work in the summer of 2017. As well as a total remodel of the top floor we also rewired the majority of the house, replaced most of the plumbing, changed all the radiators, replaced or refurbished all the windows, replaced all the carpets, had original floorboards restored, and finally painted it throughout. The process was much longer and much more complicated than we ever imagined. This was particularly challenging given the age of the house meaning that when anything was peeled back a whole host of horrors lay beneath! It took a lot of perseverance and adapting to change but we are so pleased with where we are now. There are still lots of things on the "to do" list!
How did you go about redesigning your bathroom?
I knew for our main bathroom I wanted something which was traditional. It all started really with my plan to have a roll top clawfoot bath and evolved around that! Our builders moved the entrance to our attic space from a full height walk in corridor to a small hatch in the bathroom panelling. This allowed us to have space for a separate bath and large shower. Once we had the shell of the room constructed from stud walls we were able to map out with masking tape the footprint of the various elements of the bathroom on the floor to check it would all fit in, yet not feel too cramped. As soon as I saw the Laura Ashley sink unit I knew it had to go in. I love the curved style which is perfect in our limited space and allows us to maximise storage. We had already decided to use Carrara marble in the bathroom design for the floor and shower enclosure, so the Carrara finish for the top of the unit was an obvious one. We have marble floor tiles however we went for porcelain marble effect tiles inside the shower enclosure as they are more durable and lower maintenance. The wood panelling was my builder's idea. He suggested that given we had a traditional feel in the bathroom that he could custom make some panelling in a simple Victorian style. It is a great addition and really softens the room.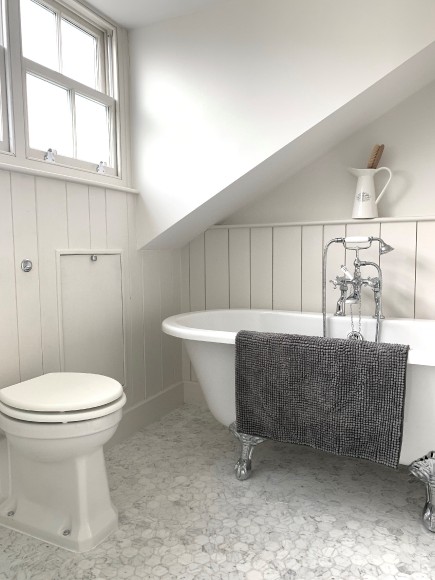 What is your favourite interior find?
I love finding a real bargain and when determined research pays off. I knew for a long time I wanted marble tiles in the bathroom. Specifically, I KNEW I wanted Carrara marble hexagonal tiles for the floor. The only problem was they cost the earth (I even asked a tile showroom at one point if there was a printing error in their brochure as I couldn't believe the price per square metre!). Luckily, I found an online supplier who had recently done a fit out for a large hotel and had some surplus stock which they needed gone. I managed to get them for a fraction of the price they would have cost from anywhere else.
Three interior trends you love
I am loving the trends for blush pinks, houseplants and dark interiors. I really enjoy incorporating aspects of trends into my rooms but in a subtle way to give the rooms a fresh, current edge. As my style is generally quite neutral this fits really well. I have enjoyed having some fun with the dark interiors trend in this house. Our recent cloakroom project in our basement was a chance to be very bold with both paint and wallpaper and I love that such a small room really takes people by surprise. To me, interior design is all about enjoyment and having fun with it and not getting too hung up on trends. Going with what you like and what makes you happy when you walk into a room is the most important thing.
To see Naomi's lovely bathroom for yourself and follow her home renovation you can find her on Instagram at @inside_no.4
Why not share your bathroom ideas and inspirational interiors via @lauraashleybathroomcollection on our Instagram page?
Discover our full range of bathroom products here.