Bathrooms are becoming an increasingly important room in the home. More often than not, we have a specific look we want to create. Why not create a calming atmosphere and add some French glamour to your bathroom? You don't have to live in a French Chateau to achieve this; by carefully choosing the right elements you can easily turn this from a dream to reality. Why not follow our top tips to bring a bit of je ne sais quoi into your bathroom...
French Style Furniture
In order to achieve a French style bathroom, take care when considering the furniture as this underpins the overall look, so invest wisely. Every detail is considered and the Langham Range is a perfect choice for this style, with its hand-painted soft cotton white finish, the intricate beading on the doors and the delicate styling of the legs gives it a lot of French appeal.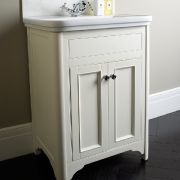 A beautiful 600mm basin unit is carefully hand painted finish for that authentic French style and has the benefit of soft close doors and a complementary ceramic basin to finish the look. Should you require additional storage, the Langham range has a stunning tall boy, with two open shelves and a cupboard for other bathroom bottles.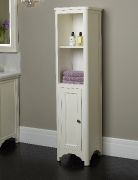 Bathroom Taps
Traditional style taps are perfect for complementing the Langham furniture. Depending on your style, why not take a look at the Clifton range of brassware from the Laura Ashley Bathroom Collection, elegant designs which are packed with appeal. If you opt for a free standing bath, then the Clifton range has standpipes which can be used with the bath shower mixer.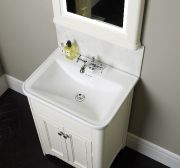 Reflect the Light
Experiment and play around with the use of mirrors in your bathroom. Placing a large mirror above the sink will give the illusion of space and maximise natural light. Why not try the coordinating Illuminated Langham Illuminated Mirror.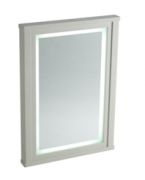 The Freestanding Bath
Pull out all the stops and opt for a freestanding bath as the centrepiece to the bathroom. It can really help pull this look together as French style glamour is all about decadence and is nothing without a beautiful showpiece. There are many freestanding baths to choose from, but we opted for this rectangular style period bath.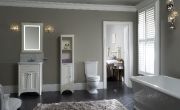 Colour Scheme
When it comes to choosing the colour scheme for your bathroom, keep it simple with something like French grey as it off-sets the furniture beautifully. The warm grey helps to create a calming and relaxing bathroom with an altogether fresher look. The clean lines of the dark wood parquet floor mixed with touches of marble offer a truly authentic French look.
Light Up
The Vienna Wall Lights add just the right amount of soft lighting to create a truly glamorous feel with the right amount of drama to achieve this look. If you feeling daring then why not complete this look with a Vienna Ceiling Light.
Finishing Touches
Hereford Chaise Longue/Lawler Rug/Mirrored Framed Butterfly Print/Vienna Wall Lights/Langham Illuminated Mirror/Beachcomber Body Wash and Body Lotion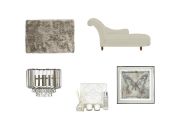 Accessories will add personality and a sense of warmth to your bathroom and give that perfect finishing touch. If space allows, why not feature a touch of luxury to the bathroom by adding a Hereford Chaise Longue to give you a few moments to relax from the world outside. A stylish textured rug softens any hardwood floor and gives the bathroom a sense of true opulence; we used something like the Lawler Rug which is presented in warm smoky grey tones to pull this look together.
Visit the Laura Ashley Bathroom Collection to browse the full range or find your nearest stockist.
Have you got any tips for adding some French style glamour to your bathroom? How do you like to style your bathroom? We'd love to know…